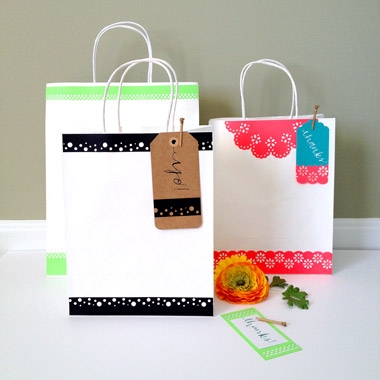 Hello! Hope you are all having a great weekend. It's been sunny and warm here in our corner of Maryland – a nice winter break, if you will. Fingers and toes crossed for no snow days this week! My Canadian friends are rolling their eyes as they read this, and rightly so.
I'm pretty sure there are different varieties of this project, but in case you have not seen any, here is a fun and easy way to dress up a paper bag and coordinate them with tags. I usually buy these bags in various sizes and colors to tuck away in my craft stash. When an event pops up, I just whip them out and arm myself with paper punches.
Side note: I recently purchased the Martha Stewart Crafts Circle Edge Punch Starter Kit, and needed an excuse to try it out. It uses an amazing magnetic mechanism (read: magic!) to cut out your shape. The kit comes with a punch cartridge, so all you need is some paper, and you're set.
---
The What
The How