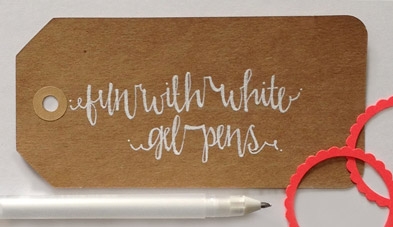 Hello! I have a confession…. I….LOVE…PENS. Seriously. At any stage of my life, whether it was the week before school started, a new job, a new project – it was all about the new pen(s). Not the power suit, or the new lip gloss, or the new shoes. It was always about the cute fine (and extra fine) point writing instruments that made me jumpy-clap the night before the major event.
Imagine my joy as I spotted pens with white ink in the pen aisle. Friends, there are many varieties, and I'm almost on my way to testing them all (and may blog about them too!), but my absolute favorite thus far is the Sakura White Gel Ink Pen. They come in a pack of 3. The packaging says it's medium point, but to me it feels more like a fine-medium. The ink is bright and shows beautifully on dark card stock. The key is to test it out on a piece of scrap to get the ink flowing. Write slowly for best results.
Whether you print, join your letters or dabble with lettering, white ink just makes everything look that much more yummy. Want to try it out? A quickie project below…
The What
The How
and Done!
You can try your hand at anything – tags, cards, you name it!