Hello and Happy April! Spring is here and the Easter Bunny is fast approaching. If you're handing out any quick gifts, this diy embossed tags project may be just the one for you to try. Let's hop (pun intended!) right in!
---
The What
The How
Step 1 – Cut your cardstock and patterned paper into rectangles (mine were 1.5″x4.5″)
Step 2 – Find the midpoint of your rectangle and draw 2 lines from right corners. Cut at the lines

Step 3 – Score along the border of your tag using the scoring board and embossing stylus. When you flip over, you'll see lovely embossed lines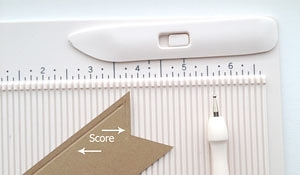 Step 4 – Create a smaller version of your tag using patterned paper and glue it to the scored side (to hide the score marks – optional).
Punch holes, add some string, and you're done! Who will you be giving your sweet bunny tags to this Easter?